Das Hofgut bietet zu jedem Anlass den richtigen Rahmen: ob Hochzeit, Geburtstage, Firmenveranstaltungen, Gourmet-Galas, Weinevents oder Präsentationen. Durch jahrelange Erfahrung bieten wir Ihnen eine außergewöhnliche Location, hervorragendes Catering und persönlichen Service – alles aus einer Hand.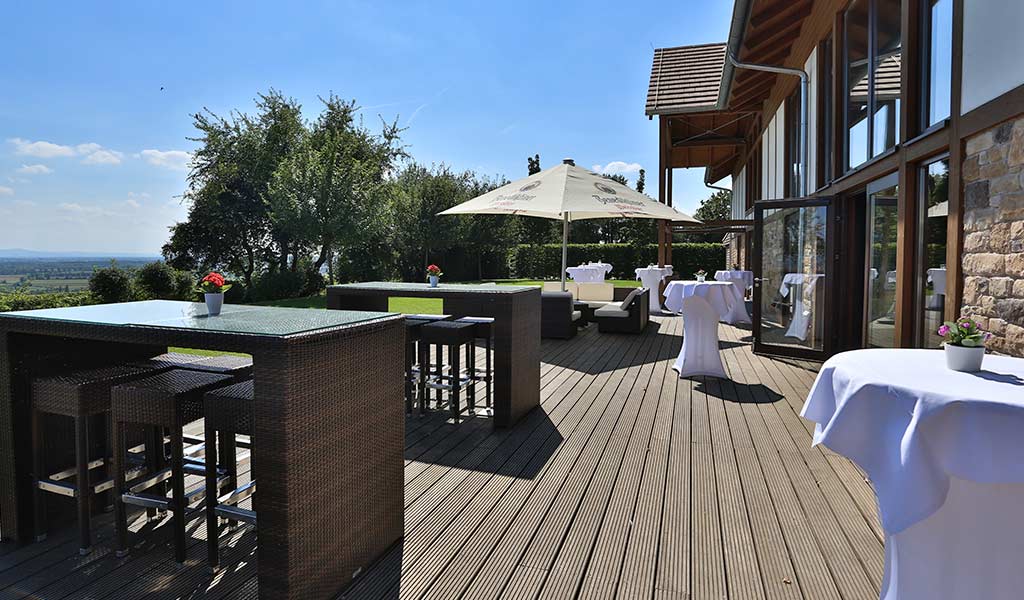 Wir planen für Sie den perfekten Tag!
Sie suchen für den wichtigsten Tag Ihres Lebens einen Veranstalter, der schon viele Hochzeitspaare glücklich gemacht hat? Durch unsere jahrelange Erfahrung können wir Ihnen dieses mit einem professionellen Personal garantieren. Von dem ersten persönlichen Gespräch, über die Planung bis hin zur Durchführung kommt alles aus einer Hand.
Egal ob Mottoparty oder Firmenfeier
Most modern premises, light, ordered and individualised, are perfectly suitable for your event. Whether festivities or conferences - we offer you the perfect location for each type of occasion.
Wir planen für Sie den perfekten Tag!
On both sites of the location you will find great green areas. Like this, you enter the location by passing our wonderful courtyard and reach the panorama terrace with its own garden.
Here is the perfekt place for your aperitif, party, buffet or a lounge. The garden will be used exclusively.
Die perfekte Sommerlocation
Planen Sie noch heute Ihr Sommerfest oder Ihr nächstes Event auf unserem Boho-Beach!
Verwöhnen Sie sich und Ihre Gäste mit leckeren Summer-Drinks, Snacks und genießen Sie einen tollen Nachmittag oder Abend im Boho-Style – Urlaubsfeeling inklusive!
Unsere Hüttenalm liegt je nach Saison direkt an unserer Eisbahn oder an unserem Hofgarten. Genießen Sie die wohlige Atmosphäre in unserer Hüttenalm ganz aus Holz und wärmen Sie sich an einem Glühwein an unserer Eisbahn auf oder erfrischen Sie sich mit einem Glas Sekt im Sommer auf der eigenen Terrasse der Alm.
Celebrate your personal, cozy "Hüttenabend" with up to 80 guests.
Enjoy an amusing night in combination with rustic food in our Kaminhütte. Create your personal "Hüttenabend" in a small group with 6-10 persons. Enjoy the cozy atmosphere around the bonfire while sitting on reindeer fur.
For the guests' well-being we propose different food offers.